What are dentures?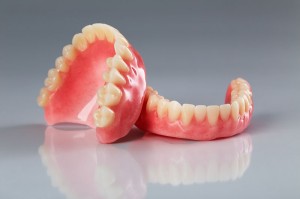 Dentures are removable dental appliances used to replace multiple teeth. Dentures consist of artificial teeth that are supported by a pink, gum-colored base. At the dental office of Tao Sun, DDS, we offer high-quality dentures that closely mimic the look and feel of your natural teeth and gum tissue. Full dentures, also known as complete dentures, are used to replace a full arch of missing teeth in the upper jaw, lower jaw, or both.
What are partial dentures?
In addition to full dentures, we also offer partial dentures in Costa Mesa and Apple Valley, California. Partial dentures are used to replace multiple missing teeth when some natural teeth still remain. Partial dentures are typically supported by a metal framework or clasps that attach to the remaining natural teeth.
Do I need dentures or partials?
If you are missing multiple teeth, dentures and partials are a good choice for restoring your smile. Dentures and partials can improve your smile by:
Improving your facial volume, shape, and overall appearance
Restoring your ability to correctly chew, speak, and eat
Enhancing the beauty of your smile
For more information on full and partial dentures, we welcome you to contact our gentle dentist, Dr. Tao Sun, soon. We are committed to restoring your smile!