What is teeth whitening?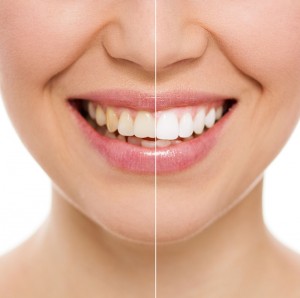 Also known as bleaching, teeth whitening is a simple, affordable way to noticeably enhance the appearance of your smile. We offer several options for teeth whitening in Costa Mesa and Apple Valley, California to help you achieve a brighter, more radiant smile. Teeth whitening can lighten the shade of your teeth by several shades in just one or two treatments. At the dental office of Tao Sun, DDS, we offer both in-office and take-home teeth whitening options. In-office teeth whitening is completed in our friendly dental office, and in just one or two visits, you can achieve a smile that is noticeably whiter. Take-home teeth whitening is perfect for patients who would prefer to whiten their teeth in the comfort of their own home. Both in-office and take-home teeth whitening services are effective and safe. Our caring dentist, Dr. Tao Sun, will help you determine which teeth whitening method is best for your specific needs.
Should I whiten my teeth?
If your teeth are discolored, yellowed, or stained, teeth whitening may be just what you need to achieve a more inviting smile. We can lessen the appearance of discoloration caused by several factors, such as medications, illness, aging, fluorosis, smoking, and certain foods and drinks. We invite you to call or visit us today to learn more about teeth whitening!