What is a dental crown?
A crown is a type of dental restoration. Dental crowns have many uses, but the main reason for utilizing a dental crown is to restore the original shape, size, and appearance of a damaged tooth. Crowns can also be used for cosmetic enhancement. A crown is a custom-made cap that is designed to fit snugly over the tooth. By completely covering the tooth, the dental crown restores the tooth to its optimal function, beauty, and health.
Do I need a dental crown?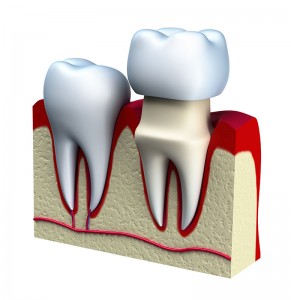 Dr. Tao Sun, our friendly dentist, may recommend a dental crown to improve your smile by:
Strengthening and protecting a fractured or weakened tooth
Restoring a significantly decayed or damaged tooth
Anchoring a dental bridge
Improving the function and appearance of a misshapen tooth
Supporting a large dental filling when little natural tooth structure remains
Enhancing the beauty of your smile
Your custom-made dental crown in Costa Mesa and Apple Valley, California can be completed and placed in just two visits to our relaxing dental office. If you would like to learn more about dental crowns and how we can improve your smile, we welcome you to contact us today.