What is orthodontics?
Orthodontics is a specialized field within dentistry. Orthodontics focuses on addressing and correcting irregularities in tooth and jaw alignment. At our dental practice, we offer several types of orthodontic treatment in order to meet your personal dental needs and goals.
What are braces?
Braces are the most common type of orthodontic treatment. Braces use metal brackets and wires to place a constant, gentle pressure on your teeth. This results in the teeth moving to their ideal positions. Our skilled dentist, Dr. Tao Sun, offers several types of braces in Apple Valley and Costa Mesa, California. In addition to traditional braces, we also offer clear braces and lingual braces. Clear braces are more aesthetic and may be a good choice for adult patients who are concerned about their appearance. We offer lingual braces as well, which are placed on the back side of the teeth, hiding them entirely from view when you smile.
What is Invisalign®?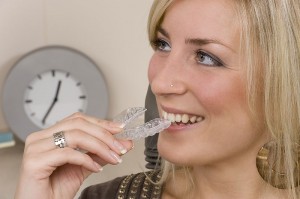 Invisalign is a modern type of orthodontic treatment. With Invisalign, you wear clear, plastic aligners that gently adjust the position of your teeth. Unlike braces, Invisalign aligners are removable.
If you believe that your smile may benefit from orthodontic treatment, we welcome you to contact us today. We are dedicated to helping you achieve the healthy, beautiful smile of your dreams!