What is a dental bridge?
A bridge is a dental restoration used to replace one or more missing teeth. If you are missing one tooth or a few teeth in a row, our talented dentist may recommend a dental bridge. The most common type of bridge, the traditional dental bridge, is a fixed restoration, meaning it is non-removable. Dental bridges are very stable and secure, so you can feel confident that your bridge will not come loose or shift in your mouth while you speak, eat, smile, or laugh. Dental bridges are composed of two dental crowns and one or more artificial teeth. Dr. Tao Sun will place the crowns on the teeth next to the gap left by the missing teeth. These crowns support the replacement teeth and ensure that your bridge is a strong replacement for your missing teeth.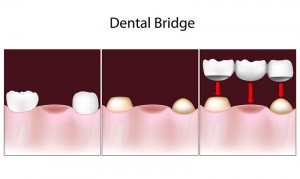 Do I need a dental bridge?
Your smile may benefit from a dental bridge in Apple Valley and Costa Mesa, California if you are missing one tooth or multiple teeth. Dental bridges can restore your smile by:
Alleviating strain on the bite
Preventing the remaining teeth from shifting
Enhancing the appearance of your smile
Restoring your facial shape and volume
Improving your ability to properly eat, speak, and chew
To discover whether a dental bridge is right for you, we invite you to call us today!