What are dental veneers?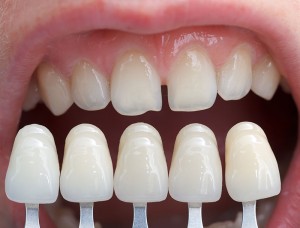 Veneers are tooth-shaped shells that are designed to fit over the front of your teeth. Dental veneers are extremely thin and are custom made to give you the perfect smile of your dreams. In most cases, dental veneers are created from porcelain or resin; both of these materials are good matches for the natural color of tooth enamel, so your smile will look beautifully natural. Dr. Tao Sun, our skilled dentist, can match the shade of the porcelain or resin to your natural tooth shade, or we can use a lighter shade to give you a whiter smile. Dental veneers in Costa Mesa and Apple Valley, California can give you a more flawless smile that you will love to show off.
Do I need dental veneers?
If your smile is flawed by factors that make you dissatisfied with your appearance, dental veneers might be just what you need. We may recommend dental veneers to correct cosmetic dental flaws including:
Spaces and gaps between the teeth
Chipped or fractured teeth
Very worn teeth
Slightly crooked teeth
Severely stained or discolored teeth
Irregularly shaped teeth
For more information on how veneers can transform your smile, we welcome you to contact our dental practice today. We are eager to enhance your appearance!